DNE SEAL acquired by Enovis
August 2023 – England & Company is pleased to announce that it recently served as exclusive financial advisor to D.N.E., LLC ("DNE") in the sale of its SEAL External Fixation ("SEAL") business to Enovis Corporation (NYSE: ENOV), a large and rapidly growing challenger in orthopedics and a leader in the foot & ankle market. This represents England's 7th transaction in foot & ankle orthopedics and 11th transaction in orthopedics generally.
Based in Boca Raton, FL, SEAL produces industry-leading external fixation devices for foot & ankle orthopedics. SEAL's innovative proprietary devices have proven highly effective in treating a range of lower limb conditions. SEAL is the largest privately-held business in the U.S. focused on external fixation for this market, and many physicians and distributors regard SEAL's products as the best.
SEAL's leadership position has been driven by its design of features that afford physicians much greater speed, ease of use, and flexibility in assembling frames onto patients. Enovis' acquisition of the product portfolio demonstrates their continued dedication to the foot & ankle space, as they aim to become a leader in the market by offering innovative and comprehensive solutions for surgeons and their patients.
"It was crucial to find a buyer committed to excellence and innovation for this product line, and we believe that Enovis will be able to grow the business significantly," said Nick Riccione, President and CEO of DNE. Riccione added, "England's expertise and relationships in the orthopedic extremity sector helped us prepare for due diligence and navigate the process of securing an ideal buyer in Enovis. This transaction lays the foundation for this business to gain global reach."  
About DNE SEAL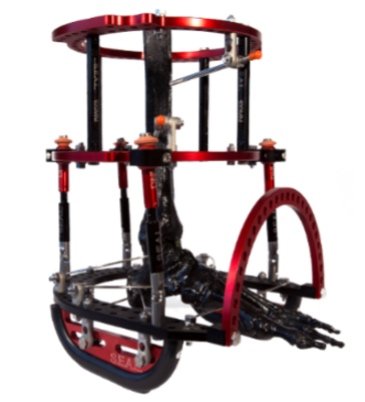 DNE SEAL specializes in foot & ankle external fixation. Their systems have been used to treat deformities and fractures and perform fusions. The SEAL system combines angular correction clamps and a rail system to help surgeons achieve better bone alignment. SEAL has a broad product portfolio that includes circular frames, a Speed Frame, pin-to-bar frames, and mini rails. The Circular Frame is used for fractures and fusions, flat foot, as well as Charcot reconstruction and limb salvage for patients with advanced diabetes. The extreme versatility of the product allows for a wide variety of applications, including angular corrections, Equinus corrections, club foot reconstructions, and other procedures. SEAL Technology includes novel outboard angular correction clamps, which allow the surgeon much more correction flexibility and to easily access wounds in diabetic foot ulcer patients for dressing changes. This technology saves time in the operating room and post-surgical care.
About Enovis Corporation
Enovis Corporation is a leading medical technology company prioritizing innovation to create advanced solutions that improve patient outcomes and streamline workflows. With a global team of talented individuals, Enovis continuously improves its wide range of products, services, and integrated technologies to support active lifestyles in orthopedics and other areas of healthcare.
has been acquired by