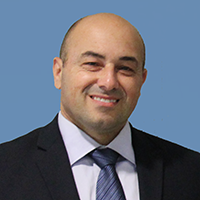 Ramzi M. Nassar
Managing Director
Ramzi Nassar is an investment banker with over 20 years of experience in M&A, financial restructuring and strategic advisory services, and private and public financings. He has extensive advisory experience with transactions in the Energy, Healthcare, Technology, and Consumer sectors.
Prior to joining England & Company in 2021, Mr. Nassar was Senior Managing Director and Head of Energy Services Investment Banking at B. Riley Securities. He also served as a Managing Director and Head of Energy Investment Banking for Oppenheimer & Co. His previous investment banking experiences include energy and M&A roles at Citibank, CIBC World Markets, and Morgan Stanley. In addition, he has eight years of experience as CEO of eLinear Solutions, an energy IT services company.
Mr. Nassar earned his BA from Rice University and his MBA from the Sloan School of Management at MIT.
SELECTED TRANSACTION
has acquired
At-the-Market Offering
$30,000,000
At-the-Market Offering
$25,000,000